Storage Tips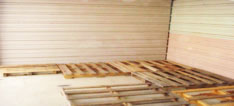 * Begin packing a couple of days before you move. Careful packing pays by preventing breakage and loss of small and fragile items.
* Get plenty of sturdy corrugated cartons, packing paper, sealing tape and a magic marker type pen.
* Use uniform sizes of boxes and stack them shoulder high to maximize your total storage space.
* Prepare your unit by placing pallets or plastic on the floor under your goods. Be sure the plastic laps up over the walls a few inches on every side.
* Leave a small air space between the goods stored and the locker walls.
* Protect your mattresses, sofas, and chairs with specially designed plastic covers.
* Call your insurance company to inquire about renter's insurance.
Warning:
DO NOT STORE COMBUSTIBLES OR PERISHABLES such as old paint, cleaning fluids, gasoline, etc. Make certain all fuel is drained or burned out of gasoline powered equipment. Throw away anything that could possibly cause fire. Do not store food in open containers or any item which could attract rodents or pests. Why risk your possessions just to keep a few cents' worth of leftovers?