Rules and Requirements for Back 40 Storage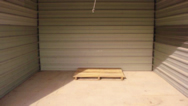 Storage Access is 7 days a week:
SUMMER Hrs: 6:30am-9:00pm
WINTER Hrs: 6:30am-6:00pm
* Office hours are 7:00 am - 3 pm Monday thru Friday.
* We do not mail out a monthly invoice. We will only mail LATE NOTICES once a fee has been incurred.
* Non-refundable Administration Fee of $20.00 includes a lock. Please remove and keep your lock upon vacating the unit. Please notify the office when you have vacated the unit.
All payments are due on the 1st of the month no matter what date you move in.
Late Fee Schedule
$10 Fee effective on the 10th of Month if rent not Paid.
$50 Fee effective on the 30th of the Month if rent & fee not Paid.
$100 Fee effective on the 15th of 2nd Month if rent & fees not Paid.
*** 2 months of NO payment will result in your unit being Auctioned.***
* We strongly recommend storing your items on pallets in the event that water does get into the unit. Pallets are located behind the office. Concrete sweats in humid weather.
* We do not provide insurance on the contents of your storage unit. You are responsible for your own insurance - Call your renters/homeowners agent.
* In the event that you would need to have your disc lock cut off because you have lost your key, there will be a $30 fee plus $10 for a new lock charge. Standard locks can be cut off very easily. Disc lock provided should be used.
* The dumpster in the parking lot is for K&D Wiring use only. You must haul away any items you no longer want.