Frequently Asked Question's
Do I need to bring my own Iock?
Your $20 start-up fee includes a lock.

How long can I store for?
Our minimum charge is one month. After that, your rental period is month to month, for as long or as short a time you need.
Are the contents of my storage space insured?
Though Back 40 Storage does not provide insurance for the items in your unit, some homeowners & renters insurance cover stored possessions. Check with your insurance provider.
Does Back 40 Storage require a deposit?
There is a one time start-up charge of $20 which includes a lock with 2 keys that you then own.
Who else has access to my storage unit?
Once you are assigned a unit, you store it, you lock it, and you keep the keys. Therefore, only those whom you wish have access to your unit.
Is there a minimum lease term requirement?
Leases are on a month to month basis, with no long term commitment required.
Can I store my vehicle in my storage unit?
We have outside parking spaces for rent. Due to insurance restrictions we cannot store vehicles inside the units.
Do any of the units have power to them?
No, there is no power in any of the units.
Are any of the units climate controlled?
No, we currently do not have climate controlled units.
Is self storage expensive?
No, self storage --- as compared to other forms of rental space --- is relatively inexpensive. We have many different sizes, ranging from a small "walk-in closet size" to an "oversized garage size". Storage space price is determined by the unit size. Remember, a small efficiently packed unit will be much more economical then a poorly-arranged larger storage space.
Do you accept credit cards?
Yes, we accept Visa, Master, & Discover Cards, as well as cash & checks. You can also sign up for ACH that is automatically deducted from your checking account on the 1st of each month.
storage tips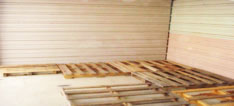 General Storage Tips
Begin packing a couple of days before you move. Careful packing pays by preventing breakage and loss of small and fragile items.
Get plenty of sturdy corrugated cartons, packing paper, sealing tape and a magic marker type pen.
Use uniform sizes of boxes and stack them shoulder high to maximize your total storage space.
Prepare your unit by placing pallets or plastic on the floor under your goods. Be sure the plastic laps up over the walls a few inches on every side.
Leave a small air space between the goods stored and the locker walls.
Protect your mattresses, sofas, and chairs with specially designed plastic covers.
Call your insurance company to inquire about renter's insurance.
Warning:
DO NOT STORE COMBUSTIBLES OR PERISHABLES such as old paint, cleaning fluids, gasoline, etc. Make certain all fuel is drained or burned out of gasoline powered equipment. Throw away anything that could possibly cause fire. Do not store food in open containers or any item which could attract rodents or pests. Why risk your possessions just to keep a few cents' worth of leftovers?